My blog last week (Catman: Retail Scorecard, compare los resultados – parte 1) reviewed overall results from our readers as they evaluated their organizations' retail strategies and captured the biggest areas of opportunity for improvement.
We also covered some of the foundations in category management required for Retailers to be successful in their catman approach. As a Retailer, YOU own and define your own unique process, driven by your internal Retail strategies. That's why it's critical to have well-defined processes and guidelines that consider the Key Components for Category Management.
This week, we'll walk you through last week's results AND explain the next part of the evaluation — Part 3: Assessing Your Categories For Gaps & Opportunities.
Last week's survey asked for self-reported ratings across different areas that should be included in your overall catman approach. The scale was (1 = weak to no understanding; 5 = strong understanding).
Topline Results

Overall Process and Approach to CatMan. Having a well-defined category management process was the highest rated area on the survey but still had a "medium" score of 3.2. Interestingly, "strong retail strategies" was scored only at 2.6, which matches well with the evaluation results and opportunities that we saw on retail strategy from last week.
Remember that a strong retail strategy creates the foundations for an effective category management approach.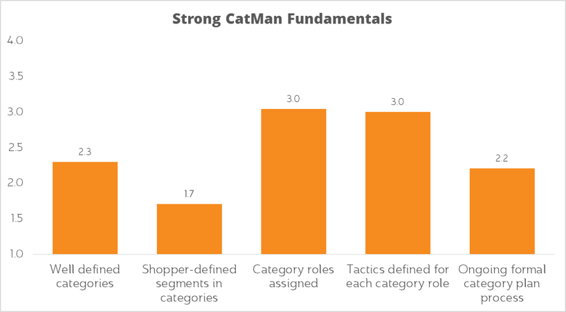 Strong CatMan Fundamentals. Some of the key requirements for effective catman were included in this part of the evaluation, including category definition, segmentation, roles & strategies. Respondents scored "low-medium" with a 2.3 in "well defined categories", and "weak" in Shopper-defined segments in categories. This is also consistent with last week's results related to Target Shopper understanding as part of a Retailer's overall strategies.
These low scores on Shopper-defined segments show more opportunity to build Shopper considerations into the category management approach.

Assigning category roles (and tactics within each role) scored much higher than the other catman fundamentals, with a "medium" score of 3.0, indicating that category roles are being used in many retail organizations, but with some room for improvement (because of the scores being out of 5.0 this score is still quite low).

Finally, and surprisingly to me, "ongoing formal category plan process" scored "low-medium" with a 2.2 score. Developing category plans appears to be a big opportunity for many Retailers (and it should tie in with a category assessment, scorecard, category strategies and the tactics, which I'll review in upcoming blogs).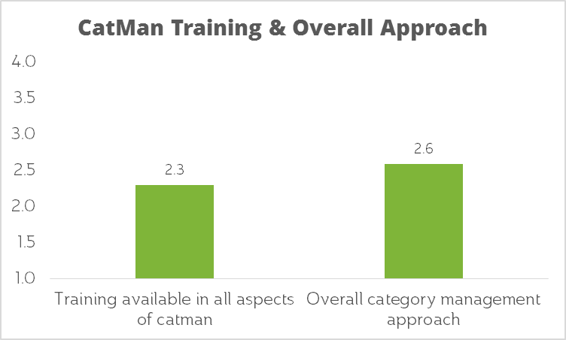 CatMan Training & Overall Approach. Category management training scored a "medium-low" of 2.3. In the past, Retailers have relied heavily on Manufacturers to provide much of the knowledge to the category.
The opportunity for Retailers is to arm their team with the strategic and analytic skills to make fact-based decisions that align to the overall strategies and processes of their organization. This brings some of the critical thinking back in your house!
Overall, Retailers evaluated their catman approach at a "medium-low" score of 2.6. There's clearly an opportunity for many Retailers to create more well-defined category management processes and approaches (including training on how to do this) to provide a framework from which they can make the best decisions to build sales and profit for their organization.
---
Participant Comments
The survey also asked for written feedback on the biggest areas of opportunity for their Retail organization as related to assessing their categories. Here are 2 of the most interesting responses:
"Our team is short on the analytical skills and tools needed to dig into our data and do things like understand our Shoppers and make strategic decisions. It's a shortcoming that has us basing a lot of decisions on intuition — unfortunately.
"Set the plan, implement the plan, and analyze results based on the plan.Our largest challenge is competing priorities from different departments. As a piece of the whole; they shouldn't all be chasing the same benchmarks."
PART 3: ASSESSING YOUR CATEGORIES FOR GAPS & OPPORTUNITIES
Developing your category plan starts with assessing your category and identifying gaps and opportunities that will help you to achieve your goals. These category goals should be tied to a scorecard that is regularly updated to help you stay on track and hit your targets.
Before you assess your category, you need to be proficient in understanding the data that is available for you to analyze the category. In a perfect world, this would include a combination of:
Retail point of sale (scanned sales) data – such as loyalty data, syndicated market data and consumer panel data.
Here's an example of a basic market assessment using syndicated market data that compares Retailer X to total market results.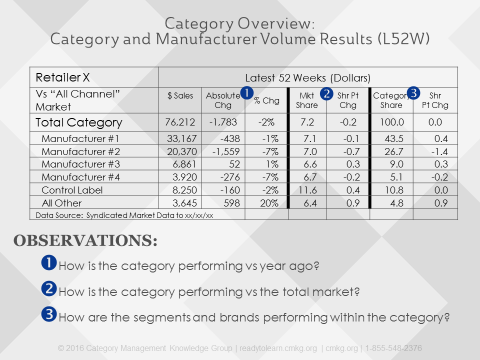 To complete an effective category assessment, you need to include consideration for the following:
How is the category performing vs total market?
How do you establish benchmarks vs total market or remaining market?
Where are your biggest areas of opportunity for total category? By segment?
Which segments and brands do you want to be most and least developed? (Should be based on your target Shopper and their purchase behavior in these key segments & brands)
What are your target shares & growth objectives for the category?
What are the volume opportunity gaps if you achieve your targets?
Now that you understand the requirements for an effective category assessment, you can understand how well your organization may or may not be doing.
Get a quick evaluation by answering a few questions on Part 3 of our Category Management Scorecard now and check back next week for the results. 

---
---
Reciba las últimas noticias de la industria en su casilla:
Suscribirse ✉
---