Summary
HD reported an outstanding Q2.
Comps and margins were up a bunch again, extending its streak of excellent execution.
The stock looks reasonably valued again and it is a long-term buy.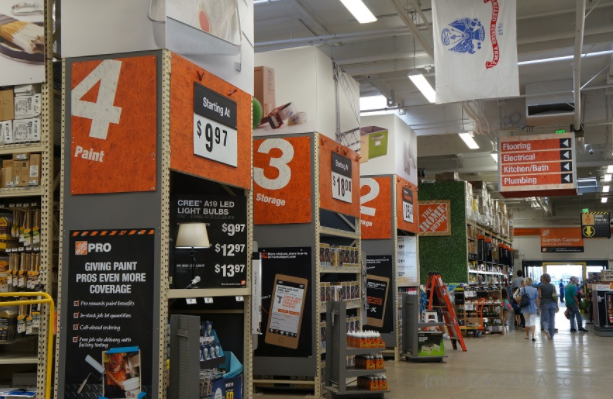 Home Depot (HD) has been the model every retailer should strive to be in the past few years. I've been a bull on the stock for some time, although recently, I backed off a bit due to valuation only. The company's fundamentals continue to be absolutely outstanding and we got yet another taste of that in the Q2 report. The stock, however, hasn't taken all that well to the report, which is a bit surprising and could have some negative implications going forward.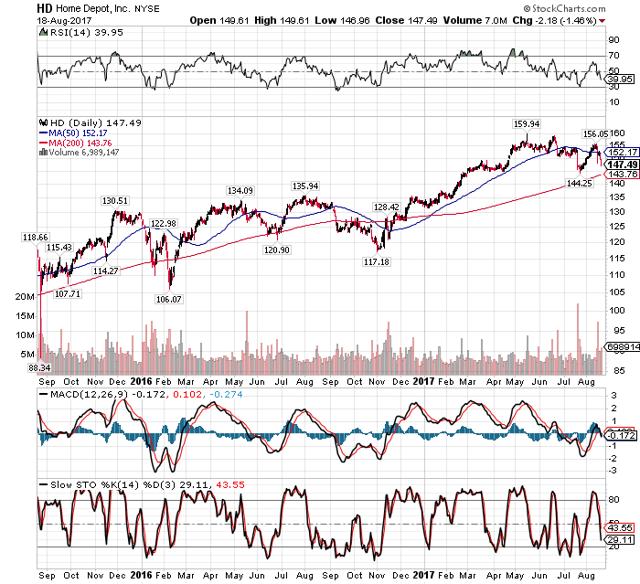 Let's start with a look at the chart because things are really getting interesting. I mentioned that I've recently become more cautious on HD due to valuation and it seems the rest of the market may be doing the same. The stock made a new high in May but has failed to reach that level again since. The only attempt that was made was a few weeks later in June, but that rally was rebuffed and it hasn't had another shot at it. To be honest, I'm a little surprised the Q2 report wasn't good enough to send the stock up for another chance at a high, but it wasn't and that has me a bit concerned for the bulls.
Sugerimos: http://www.america-retail.com/finanzas/finanzas-3-reasons-why-target-is-a-better-investment-than-amazon/
On the plus side, HD is running up against its 200DMA, which is currently at $144 and rising. That's just a couple percent below where the stock is now, so in pretty short order, we're going to have a showdown between the two. What happens there will determine if HD continues to rally or if the move to $160 really was the top. Given that the momentum indicators are confirming the weak price action in the stock, it looks like the bulls have their work cut out for them, and thus, I don't think shares are going to just bounce nicely off of the 200DMA. I think that if the stock does move higher, it is going to be choppy at best and take a lot of bullish conviction that I don't see right now. In short, it looks to me like HD is creating a topping pattern, but until the pattern is complete, it can still be negated. It's just something to watch for if you're long because this isn't the same clean rally we've become accustomed to with HD.
On to the quarter, HD continues to produce absolutely astounding results. This company has become almost unbelievably good at continuously producing high levels of comp sales despite the fact that retail has been struggling for years at this point. HD has been completely ignoring the fact that it should be weak along with the rest of the industry and has instead produced 5% or 6% comps for years. Q2 was no different as its comp came in at 6.6% here in the US. That easily beat consensus and apart from the fact that it continues to stack huge gains on top of huge gains – something that is tremendously difficult to do – its strength is coming from a healthy mix of transaction and ticket gains.
The mix of the two is important because traffic is the life blood of any retailer (physical ones, anyway) and HD continues to bring in more and more traffic as time goes on. This is the best indicator of demand there is and HD continues to see more and more of it. Average ticket growth is important as well because it means HD is getting more from each customer, which helps not only boost revenue but leverage down fixed costs as well, helping margins. The roughly half-and-half mix of traffic and ticket gains is tremendously bullish and it seems that there is no end in sight for HD's comp sales gains.
Speaking of margins, more gains were made in Q2 there as well as HD continues to show it is a well-oiled machine. Gross margins are always flat for HD and they were again in Q2; nothing of note there. But HD's magic comes from keeping SG&A costs low compared to revenue growth and that's what happened with the former rising at roughly half the rate of the latter in Q2. That helped operating margins grow by almost nine percent as revenue was up just over six percent, and that in turn sent earnings up almost ten percent. HD has a long history of producing operating margin gains off of its comp sales increases and Q2 was certainly no different; the bull case, it would seem, is still very much intact, but is that good enough?
The quick answer is pretty easily seen as the bulls failed to move the stock forward on the report. Of course, last week wasn't exactly great from a broader market perspective, but still, the weakness in HD is noticeable considering how good the quarter was. The stock is going for 20 times this year's earnings and 18 times 2018 estimates, and considering that current forecasts have HD at low-teens EPS growth for the foreseeable future, that's not a bad multiple. It is going for 1.6X its EPS growth rate, give or take, and given that HD has a clear track record of being a market leader and one that has ridiculously good fundamentals, that seems a reasonable price to pay. My concerns over valuation have largely been worked through with the sideways action in the stock and EPS estimates ticking up recently; with the two converging a bit, HD doesn't seem nearly as expensive. My only concern is that the chart looks weak here, but as I said, that doesn't mean it has to remain weak.
The Q2 report was really quite outstanding and I think investors are ignoring just how good it was. The move down in the stock is puzzling, but it looks to me like a buying opportunity. Favorable housing trends continue to be the story and HD's execution is unparalleled. My concerns over valuation are no more so I'm back on board with HD here.
Disclosure: I/we have no positions in any stocks mentioned, and no plans to initiate any positions within the next 72 hours.
I wrote this article myself, and it expresses my own opinions. I am not receiving compensation for it (other than from Seeking Alpha). I have no business relationship with any company whose stock is mentioned in this article.
Fuente: seekingalpha.com
---
Reciba las últimas noticias de la industria en su casilla:
Suscribirse ✉
---