Finanzas: Whole Foods Might Still Get A Higher Bid

Summary
Last month, we wrote that our system's gauge of option sentiment suggested Whole Foods might get a higher bid than Amazon's bid of $42 per share.
The upside target our system showed then was $50 per share, the same target two knowledgeable observers came to independently.
$50 is still our upside target, but the odds of Whole Foods getting a bid that high have declined. We elaborate.
We conclude by noting there's a better chance of Whole Foods getting a higher bid in the 40's.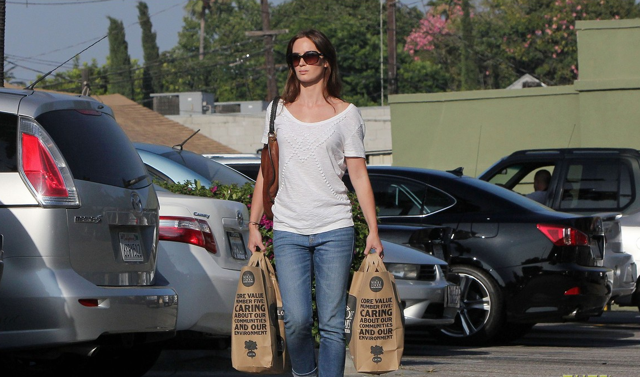 Still A Chance, But Less Of One
Last month, we posted three concentrated, hedged portfolios for our Bulletproof Investing subscribers.* Whole Foods Market (WFM) appeared in two of them, on a day when its acquisition by Amazon (AMZN) had been announced, so we included this note explaining why:
Why is it in this portfolio? Because our gauge of option market sentiment — attempting to hedge it with an optimal collar against a >9% decline over the next several months — indicates that there's a chance the acquisition price might get raised. Often, after these sorts of acquisitions, there are no bids on calls even 1% out of-the-money ["out-of-the-money" means above the current price of the stock]; here there were.
We pointed this out in an article at the time (A Higher Bid For Whole Foods?), where we noted that the Financial Times's Lex column agreed with our gauge of option sentiment, that there was a chance Whole Foods could get a significantly higher bid, as much as $50 per share. This weekend, both our system and the Financial Times suggest that is less likely to happen. Let's recap the situation immediately after the acquisition was announced and show what's changed.
Our Option Sentiment Gauge On June 16th
In our June article, we explained how we estimate potential returns for securities. We start with the assumption that the stock or ETF will begin to revert to its long term mean return, and then we test that assumption against option sentiment by attempting to find an optimal, or least expensive, collar against a greater-than-9% decline over the next several months:
What our system did first was attempt to attempt to collar Whole Foods with a cap equal to the mean of its average return over the last 6 months and its average 6 month return over the last 10 years (19%). When it couldn't find an optimal collar there, it lowered the cap % until it found one, in this case at 17% using a $50 strike call, as you can see below (the closing price for Whole Foods on Friday [June 16th] was $42.68).
This was the optimal collar to hedge WFM against a greater-than-9% drop by mid-January, while not capping an investor's possible upside at less than 17% by then, on June 16th: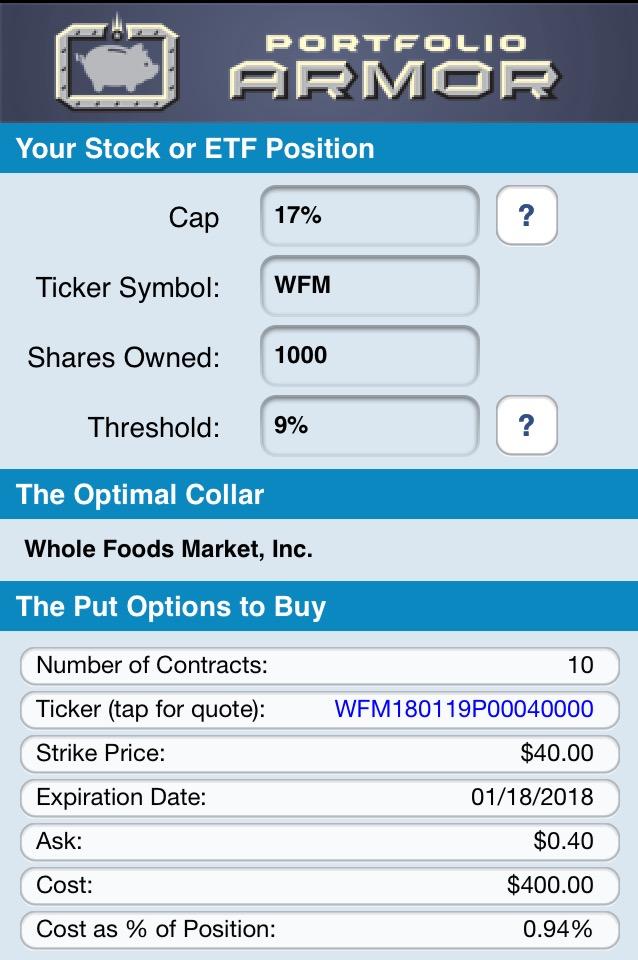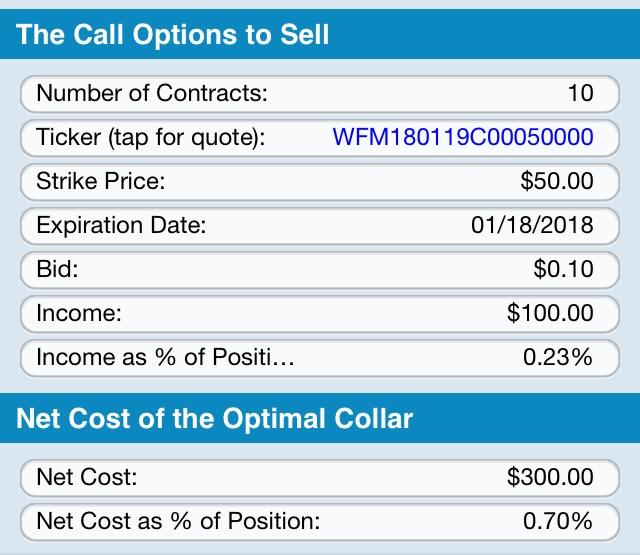 As we mentioned then,
The key point for the purposes of this article, though is that there were bids on Whole Foods Market calls that far above stock's closing price, which suggests some option market participants think Whole Foods may get a higher acquisition offer.
Sugerimos: http://www.america-retail.com/finanzas/finanzas-the-genius-of-amazons-whole-foods-acquisition/
The FT's Take On June 17th
The Financial Times came to a similar conclusion on June 17th — "Whole Foods: Grain of Truth" — (paywalled here):
Amazon's acumen and ambition are well-noted. But is the bid well-priced? Whole Foods is selling at a third of its all-time high. The board may believe grocery trends are so dire that this is the best outcome for shareholders. But Amazon's market value jumped $14 billion, or 3%, on the news, suggesting it [Whole Foods' board] should have driven a harder bargain. Or maybe no bargain at all.

Shareholders are more sophisticated than they were 30 years ago. Amazon may be a shrewd owner. But another hedge fund could jump into Whole Foods stock and agitate for revised terms or for a different purchaser to fix [Whole Foods founder John] Mackey's brainchild. Sound markets should benefit buyers and sellers equally.
The FT didn't offer a price target in that column, but two other observers did, and both were similar to our system's $50 target. Mark Sebastian of Option Pit tweeted that the final offer would likely be near 20% above the $42 initial offer: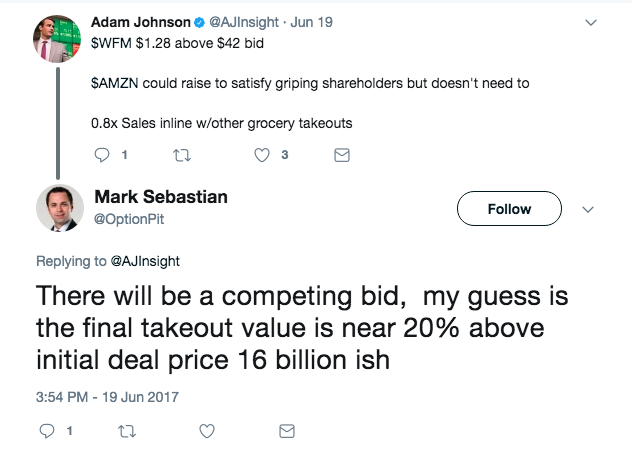 20% above Amazon's $42 offer would be $50.40.
The other observer who saw a ~$50 target for Whole Foods was Seeking Alpha contributor DoctoRx ("Amazon: The Bubble Expands Further"):
In contrast, depending how trading goes, WFM is interesting. With sales this year expected to be around $16 B, and noting that WFM often has traded above 1X sales per share, I think that $50 could be an upside price target if [Walmart (WMT)] or other large players jump in. If it is correct that AMZN is looking to position WFM downmarket, then perhaps a chain that is already downmarket, such as WMT, [Target (TGT)], [Costco (COST)] or [Kroger (KR)], could be interested in acquiring WFM and keeping it as the upscale member of an enlarged company.
While there's still a chance Whole Foods will get a higher bid, it seems less likely now that it will be as high as $50 per share, as we'll see below.
Our Option Sentiment Gauge On July 7th:
There were again bids on the $50 strike January call options when we scanned for a similar optimal collar on WFM on Friday, July 7th: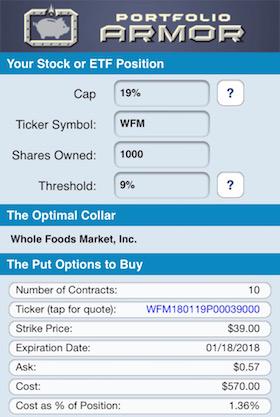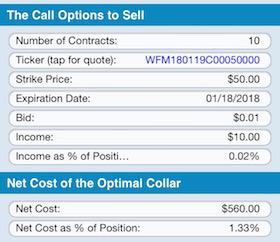 But note the difference this time: the bid was $0.01, or 0.02% of underlying position value. Scroll up, and you'll see that last time it was $0.10, or 0.23% of position value.
So there are still some option market participants betting on a $50 offer, but they aren't willing to bet as much on that outcome as they were a few weeks ago. That's consistent with the FT's take as of July 8th.
The FT's Take On July 8th
In a front page article on Saturday, July 8th (paywalled here), Anna Nicolaou and Jessica Dye shared their analysis of a regulatory filing related to Amazon's acquisition. According to them, Amazon refused to enter a bidding war with other potential acquirers and had already agreed to raise its offering price (from $41 to $42 per share):
Amazon offered $41 a share on May 23 but Whole Foods countered a week later with a request for $45, prompting Amazon to consider walking away. […]

While the two companies talked, Whole Foods, which was under pressure from an activist investor, received six other expressions of interest [two from other companies and four from private equity funds]. But Goldman [Sachs, Amazon's advisor] told Evercore [Whole Foods' advisor] that Amazon was "not willing to engage in a multi-party sale process" and it asked Whole Foods not to approach other bidders while they were still in talks. On June 1 Amazon said "as a last stretch" they would offer $42 a share as its "best and final offer".
A Better Chance For A Higher Bid Below $50
Another way to look at the disclosures the FT published is as a green light for an industry competitor (perhaps one of the ones DoctoRx mentioned) to offer Whole Foods a bid higher than $42, but lower than $50. Indeed, the options market suggests as much. As of Friday's close, for example, the bid on the $45 strike January calls on Whole Foods was $0.20, or 0.48% of position value.
Because there was still a chance for a higher bid for Whole Foods — and because it was so cheap to hedge its downside risk in light of its acquisition offer by Amazon — Whole Foods again appeared in two of our bulletproof portfolios on Friday (the ones with the highest ratio of upside potential to downside risk).
*Each week, we present three portfolios:
The $100,000 portfolio with the highest ratio of upside potential to downside risk then.
The $1,000,000 portfolio with the highest ratio of upside potential to downside risk then.
The $1,000,000 portfolio comprised of our top names (the first two portfolios often don't contain all of the top names.
Disclosure: I/we have no positions in any stocks mentioned, and no plans to initiate any positions within the next 72 hours.
I wrote this article myself, and it expresses my own opinions. I am not receiving compensation for it (other than from Seeking Alpha). I have no business relationship with any company whose stock is mentioned in this article.
Fuente: Seeking Alpha
Tags: